19.05.22 - EPFL, the European Space Agency, and the University of Luxembourg, took on the challenge to design a new lunar mission in record time using an approach known as concurrent engineering.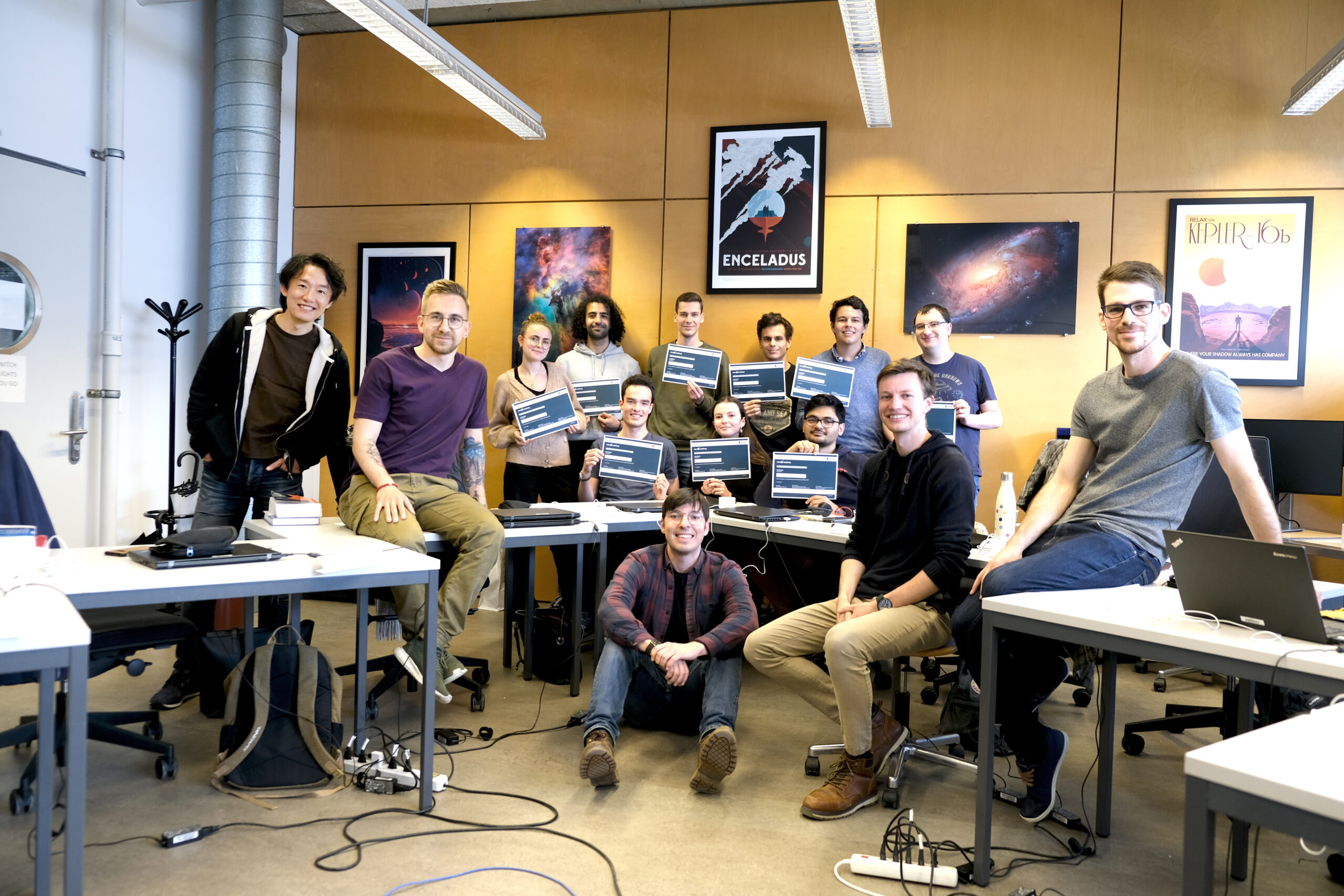 From April 4 - 8, an interdisciplinary group of EPFL students took part in the annual Concurrent Engineering Challenge. This is a week-long event organized by the European Space Agency's (ESA) Education Office and Systems and Concurrent Engineering Section intended to teach graduate students the principles of concurrent design for space missions and to support the development of new concurrent design facilities throughout Europe.
Guided mainly by eSpace engineer Mathieu Udriot and guest researcher Denis Galagan, the team of students spent an average of ten hours per day at eSpace's redesigned Concurrent Design Facility (CDF). The objective: to craft, in less than a week, a new mission aimed at prospecting the poles of the Moon from orbit using bi-static reflectometry.
Similar to how on Earth oceanographic and cryospheric properties can be measured from orbit by means of GPS reflected signals, bi-static reflectometry can be used to detect, quantify, and map water ice deposits on the polar regions of the Moon. The students were assigned to eight different workstations representing major subsystems within the mission: power, propulsion, trajectory analysis, thermal, structures and mechanisms, communications and data handling, attitude and orbit control, and configuration. The challenge addressed the need to design a mission to launch, transfer, and deploy a distributed space system composed of a mothercraft satellite (the signal transmitter) and two 3U cubesats (the signal receivers) into lunar orbit and collect scientific information for at least a year.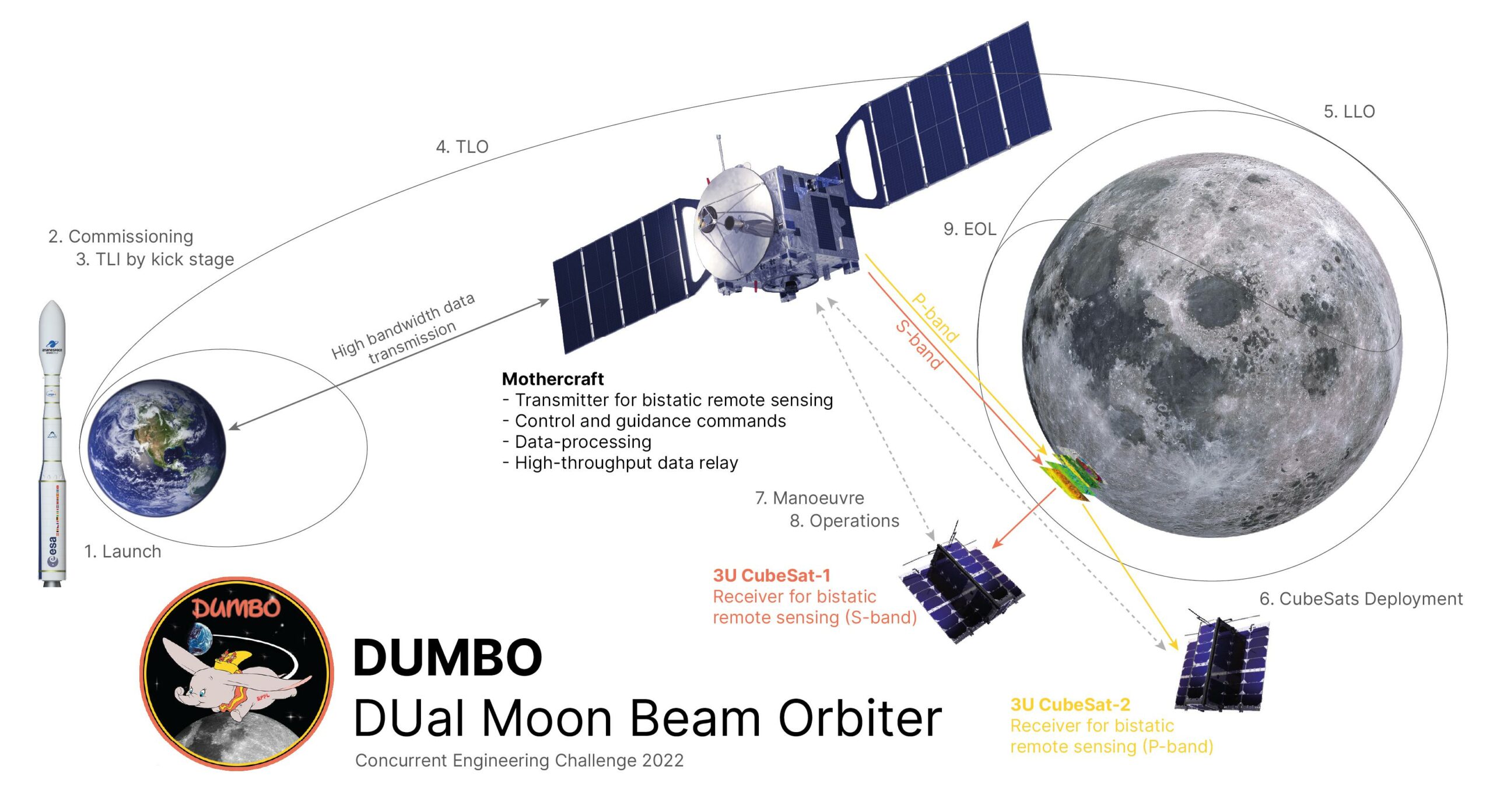 Starting with mission objectives and high-level requirements, design iterations were completed while relevant information was being continually shared between the different subsystems using COMET™, an open-source concurrent design software tool developed by RHEA Group in collaboration with ESA. At the end of each day, the three teams involved in this year's challenge who were located in Belgium, Luxembourg, and Switzerland presented their progress on the design and went on to highlight major challenges encountered throughout the day. This system of regularly sharing improvements and hurdles allowed for a rapid assessment of the mission's technical and operational feasibility, the early identification of risks, and the preliminary definition of budgets for primary mission drivers (mass, power, and data).
The feasibility of the mission was demonstrated by the end of this week-long study, the outcome of which can be used during subsequent, more exhaustive design phases of the mission. What would have taken weeks, if not months, to complete using more traditional sequential methods, took just a few days in this setting of constant interaction, improvement, and iteration.

"It was an intense week with a complex challenge that was tackled by motivated, team-spirited groups," said Udriot. "It was really interesting in both technical and soft skills aspects. It was also rewarding to see the results achieved in only a few days."
Concurrent design was first implemented at ESA in 1998 under the premise that bringing all involved subsystems and stakeholders together in the same room at the same time would expedite the design process. After more than 300 concurrent design studies have been conducted at ESA's CDF, concurrent engineering has become an indispensable tool for early conceptual design of space missions and systems.
eSpace previously had a CDF until 2015 and began the long-awaited process of redesigning and reopening its CDF in 2019 with the application to participate in ESA's next Concurrent Engineering Challenge. It finally came to fruition this year after most sanitary measures against Covid-19 were lifted all throughout Europe. eSpace strives to continue improving its concurrent engineering facility and design methodology. The principles of concurrent design extend far beyond space exploration missions. Thanks to the support of ESA and the many lessons learned this week, eSpace is ready to take on new challenges, supporting student teams and associations working on a new prototype, educational programs aimed at teaching the basic principles of concurrent engineering, and industrial partners planning their next big project.
"This challenge was a great experience! We had the opportunity to discover the concurrent engineering approach to design a lunar mission. The use of this new working method, the collaboration and motivation of the students and the commitment of the engineering team all contributed to make this week successful and enriching," said Julien Moreau, an EPFL master's student in Mechanical Engineering who participated in the challenge.
"This week gave me the opportunity to discover in depth the concurrent engineering approach widely used in the space sector," said another participant, Thomas Manteaux, an EPFL master's student in Microengineering. "It was not an easy challenge, but it was certainly very interesting!"