To celebrate the Italian Day of Space (giornata Nazionale dello Spazio) in Switzerland, eSpace hosted two exciting events on December 15 and 16, 2022.
On the evening of December 15, eSpace and EPFL hosted the event "Italy and Switzerland: Together in Space". This event, which had over 300 attendees, was moderated by Paola Catapano from CERN and featured fantastic presentations from astronauts Claude Nicollier and Paolo Nespoli on their journeys in space. Two of the new class of ESA astronauts, Megane Christian and Slawosz Uznansky introduced themselves and talked about their background.
Then the evening was closed with a panel discussion with researchers and industry players from Switzerland and Italy to exchange on collaboration between academia and industry in the space field. Members of the panel highlighted some Swiss-Italian collaboration in space and also highlighted the benefit of bilateral collaborations.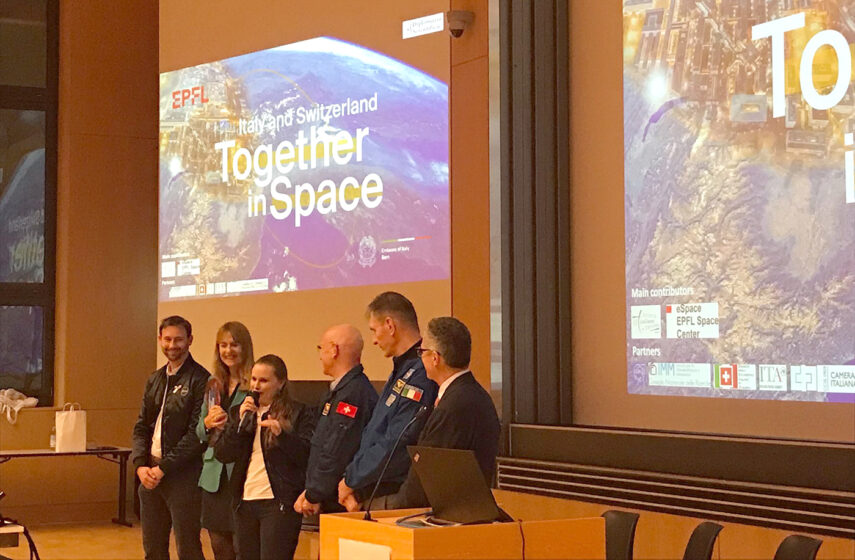 On December 16, eSpace hosted a technical workshop for the Italian Day of Space in Switzerland: "Space technology and sustainability: a challenge for the future".
Participants learned about space activities at the Swiss Plasma Center and about space activities at CERN from Enrico Chesta. There were also presentations from Clearspace, Beyond Gravity, EPFL Spacecraft team, Syderus Space Company and the University of Geneva. The day concluded with a roundtable on Space Sustainability: Which role for Italian and Swiss Academia and industry in a changing landscape?
eSpace especially wants to thank Luca Valenziano for coordinating these great events and to thank all the participants. Hopefully this will trigger further projects between the two nations!