24.10.23 - From October 16-19, members of the eSpace team and its close network attended and gave a presentation at the ESA Clean Industry Days, one of the most important events on space sustainability in Europe.
The ESA Clean Space office offered multiple sessions on eco-design for space, end-of-life management and zero debris, and active debris removal and in-orbit servicing, as well as other activities to foster exchanges between all involved stakeholders. This year's Clean Space Industry Days attracted more than 400 attendees from ESA, industry, policymaking, and academia.
eSpace presentations
eSpace Engineer Mathieu Udriot presented "Rapid Life Cycle Assessment Software for Future Space Systems' Design - The Assessment and Comparison Tool (ACT)". The presentation also included an announcement of the continuation of the ACT development, which will continue for the next two years with the ESA Future Launchers Preparatory Programme (FLPP), the former consortium partners PSI and Ateleris GmbH, and new partners IRS Stuttgart, ISAE SUPAERO, and Ways Ehead. The official kick-off for this extended project, known as REACT, is planned for early November.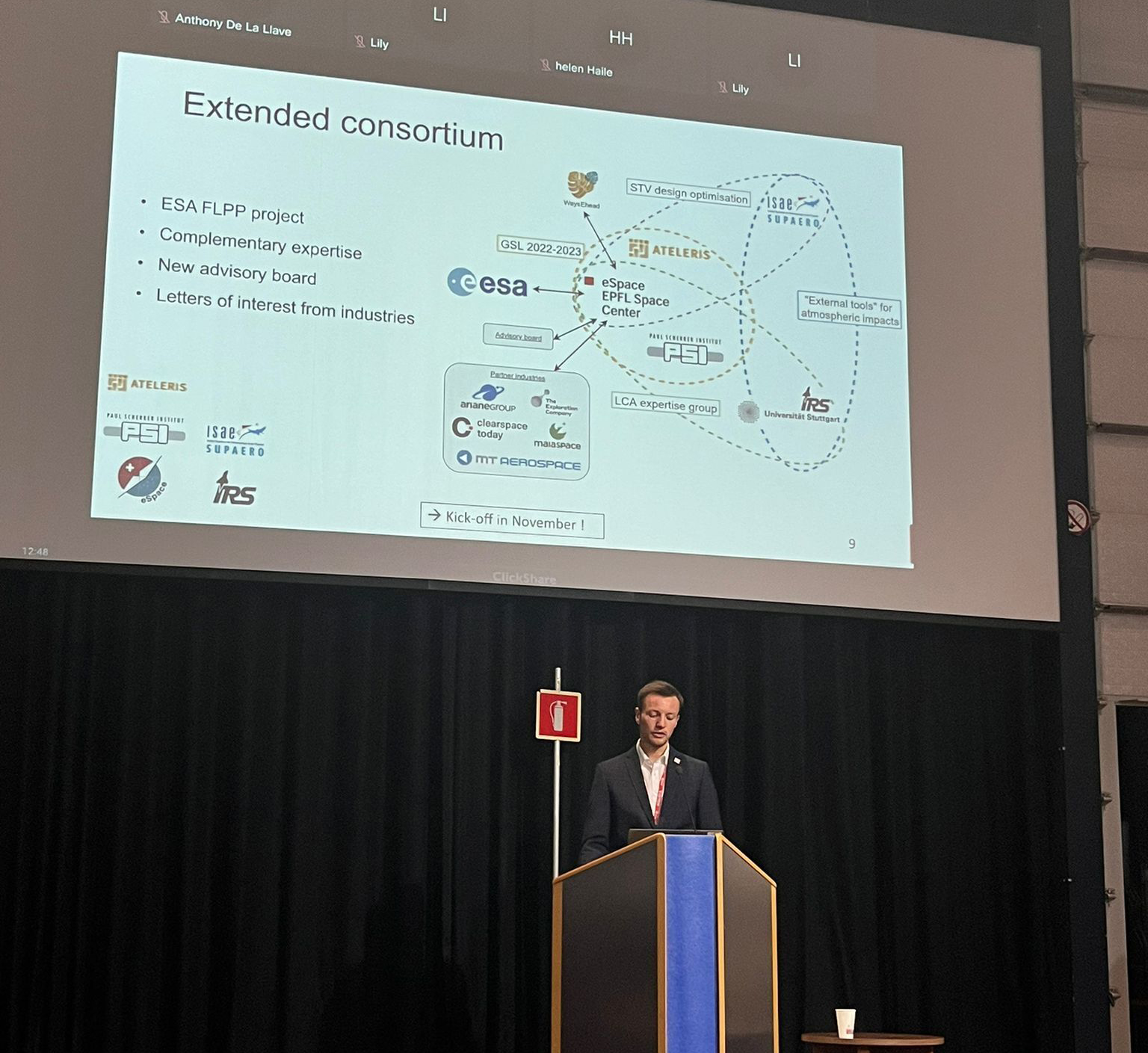 Marnix Verkammen, a master's student hosted at eSpace, also presented his work "A Consensus-Based Single-Score for Life Cycle Assessment of Space Missions", and EPFL PhD candidate at the Laboratory for Processing of Advanced Composites (LPAC), Alexandre Looten who will return from a secondment at ESTEC, gave the talk "A Direct Approach for Assessing Demise Capability and Modelling Correlation for DRAMA: A Case Study on Composite Materials".
In addition, eSpace alum Adrien Saada, Operations Officer for the Space Sustainability Rating, presented "Utilization of a risk index to incentivize satellite operators to follow best practices for post mission disposal: the mission index module of the Space Sustainability Rating" at the event as well.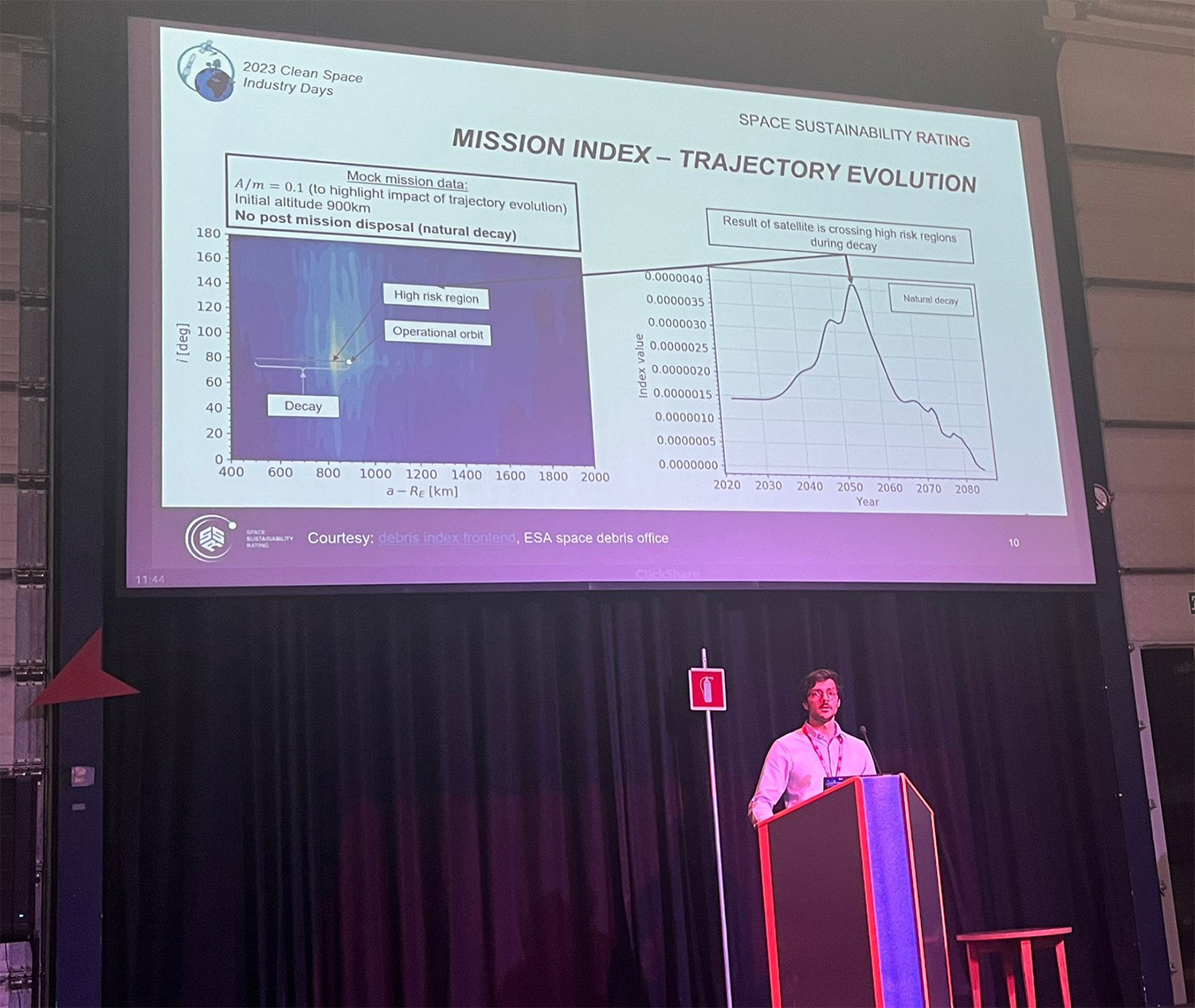 Main takeaways
"If you love space, you have to love Clean Space", is how former ESA Director General Jean-Jacques Dordain spoke about the importance of this initiative and event.
Many clearly agreed, as this was the largest edition of the Clean Space Industry Days ever, with over 400 people in attendance. The event had many highlights, including a half day devoted to detailed discussions of the Zero Debris Charter. The eSpace and the Space Sustainability Rating teams participated actively in its creation with ESA and many other stakeholders.
In the ecodesign session, improvements in the ESA LCA database were presented and companies shared their activities in the space sustainability field, developing their own tools. There was also a Life Cycle Analysis (LCA) board game and a planetary boundaries fresque to raise awareness.
The new ESA Space Debris Mitigation standards for 2023 were also announced, along with an update of the LOS (Loi sur les Opérations Spatiales) for France, which includes a definition of a satellite constellation. There were also zero debris workshops on several thematics such as successful disposal and orbit clearance, active debris removal, collision risk management, and space situational awareness, re-entry safety. The outcomes of this workshop will be shared in a Zero Debris technical booklet.
"Hopefully one day Clean Space will not be needed anymore," Jean-Jacques Dordain concluded, hoping that instead, operating sustainably in space will become the norm.